Posted on 29 Nov 2019
A boy wore a dress and the stars came out in Stratford-upon-Avon - including Robbie Williams and David Walliams.
The much-loved pair were in town Thursday night for a performance of The Boy In The Dress, Walliams' 2008 kids' book which has now been turned into a stage musical by the Royal Shakespeare Company.
Pop icon Williams, meanwhile, was in attendance having co-created the show's score with his writing partner, Guy Chambers.
Robbie and David can be seen in our featured photo, along with Chambers and the man who helmed the show, RSC Artistic Director Gregory Doran.
The Boy In The Dress - production shot
Focusing on the character of 12-year-old Dennis, the star striker for his football team, The Boy In The Dress is a story about embracing difference, as Dennis realises he enjoys and feels comfortable wearing female clothing...
To find out more, read the below review from our sister publication, What's On magazine...
Fantastic production though last year's RSC Christmas show was, it's fair to say that a good deal of David Edgar's adaptation of A Christmas Carol went over the head of my 10-year-old daughter, Millie.
There was no such problem with this year's festive offering at the Royal Shakespeare Theatre, though...
David Walliams' The Boy In The Dress - here helmed by RSC Artistic Director Gregory Doran - ticks all the boxes of the feelgood family musical, featuring young protagonists, splendidly choreographed scenes that include football playing and disco dancing, a lightweight but thoroughly engaging storyline, a timely message about embracing difference and a fantastically memorable Brit Pop-style score by one of the world's hottest songwriting partnerships - Robbie Williams and Guy Chambers.
The show is fun, fast, lively, colourful, clever and utterly absorbing, with a young and confident cast who've evidently got the greatest of faith in their material and more than enough talent to maximise the magic.



There are lots of superb scenes to enjoy, but the best of the lot must surely be when the boy of the title - 12-year-old star striker of the football team, Dennis - steps into the orange sequined dress for the very first time while in his friend Lisa's bedroom. All of a sudden, in that key moment, the room is magically transformed into a pulsating discotheque, complete with fabulous glitterballs and equally fabulous silver-costumed dancers brilliantly strutting their ever-so-funky stuff.
Perhaps the brightest star in a truly glittering constellation of performers is Forbes Masson as child-loathing Scottish headmaster Mr Hawtrey. Masson's interpretation of the character called to my mind not only Dickens' wrenching, grasping, covetous old sinner, Ebenezer Scrooge - a familiar name indeed at this time of year - but also the BBC's savage rottweiler of an interrogator, Andrew Neil - a familiar name at this time of this particular year for the entirely different reason of the imminent general election. Neil takes no prisoners as he tears politicians limb from limb in television interviews, and Masson ensures Mr Hawtrey is just as uncompromising in terms of the children who attend his school. The key difference - and glad of it we are - is that Mr Hawtrey is also fantastically funny.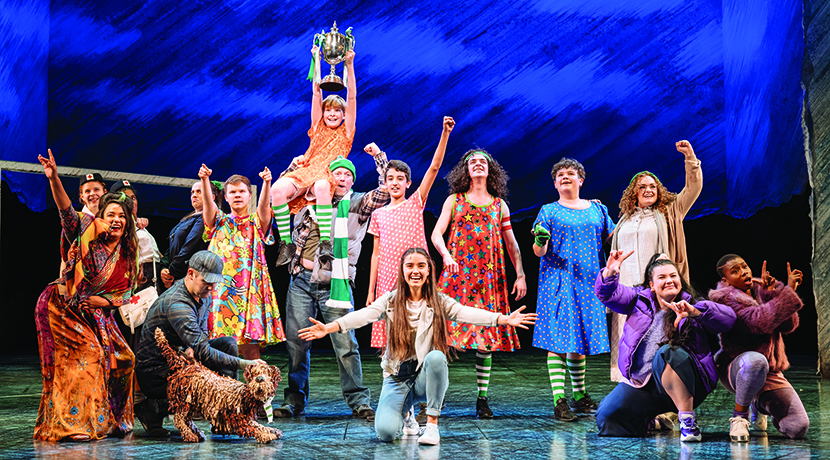 Writer Mark Ravenhill - who remains best known for his 1996 in-yer-face play, Shopping And F***ing - has a simple ambition for his adaptation of Walliams' 2008 book: that people come out of the theatre "grinning stupid grins from ear to ear"...
Given that this is a stunningly brilliant Christmas cracker of a show - a sensational festive-season gift for all the family to enjoy - there's every chance that Ravenhill will see his wish fulfilled time after time and night after night. Wearing a dress has never been so much fun! Cathy Kingham *****
The Boy In The Dress runs at the Royal Shakespeare Theatre in Stratford-upon-Avon until 8 March.