Posted on 10 Jun 2019
Birmingham City Council has won a new interim injunction to stop anti-equality protesters from demonstrating outside Anderton Park Primary School in the city's Balsall Heath district.
The injunction will be in place until the case is heard during what is expected to be a three-day hearing, taking place sometime between 22 and 31 July, when the school will be closed for the summer holidays.
Presiding judge Mr Justice Warby has also granted a prohibited zone order against the protest coordinators, Shakeel Afsar, his sister Rosina Afsar and Amir Ahmed.
The judge said that an exclusion zone around the school was necessary to protect the pupils and staff.
The demonstrations outside Anderton Park have been taking place for a number of months, with protesters wanting the school to stop teaching lessons about equality. The school has been teaching such lessons uninterrupted for nine years.
The council took out an initial interim injunction on Friday 31 May, explaining that its action was in response to the situation with the protesters escalating, creating a risk to children which was deemed 'too serious to tolerate'.
Responding to the news, the protesters said that they intended to gather the following week, but on a street further away from the school.
A demonstration on Friday 7 June was called off due to heavy rain.
Today's decision came after the protesters had been given an opportunity to state their case in front of a judge. They had previously launched a crowdfunding page to fight the court battle, but have so far attracted under £6,000, less than 20% of their £30,000 goal.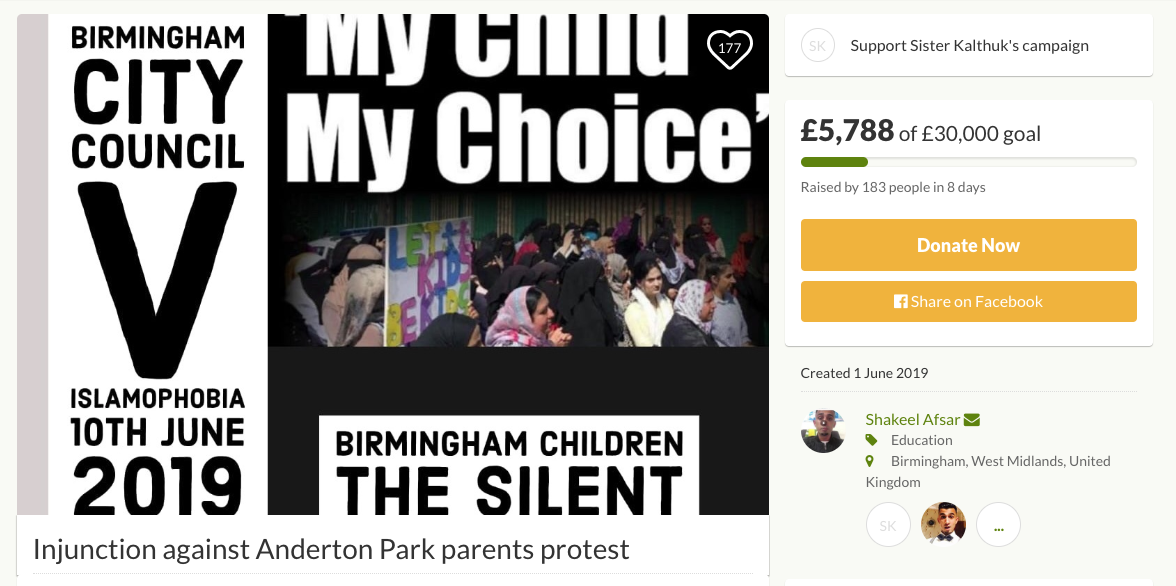 The court ruling is just the latest event in a long-running and controversial row about the teaching of equality lessons at Anderton Park School.

At the weekend, Labour MP Roger Godsiff - in whose constituency Anderton Park is located - was reported by shadow education secretary Angela Rayner to the party's chief whip, Nick Brown, for "discriminatory and irresponsible" comments after he backed the protesters.
In a video in which he is seen with protest organiser Shakeel Afsar, Birmingham Hall Green MP Godsiff said: "I think you have a just cause and I regret the fact that it hasn't been reciprocated by the head teacher."
He continued: "I will continue to try and fight your corner because you're right. Nothing more, nothing less. You're right."
A Labour Party spokesperson speaking to Sky News said that Mr Godsiff will be "reminded of his responsibilities as an MP" by Mr Brown.
Continuing, they said: "The Labour Party has long supported and campaigned for LGBT inclusive education in schools.
"There is not only a moral imperative, there is also a legal requirement and schools must comply with the Equalities Act. There is no justifiable reason to stop the teaching of these issues."
The demonstrations have drawn reaction from several quarters, including from West Midlands Mayor Andy Street, who is himself gay. Mr Street told the BBC: "If you look at the literature and the banners, the first reaction is disbelief actually... [that] it could be said in this day and age.
"You look at what's being said and it's really upsetting, but it is actually ultimately homophobic and it is illegal and it has to stop now."
He continued: "One of the issues here has of course been that a lot of the demonstrators are not parents in that school.
"Of course I respect the right of parents to be deeply, deeply concerned about what happens in their children's school, but this protest has been somewhat moved away from that.
"I honestly believe if the school and the parents could sit down and look at what genuinely is happening - as has been the case for many years before now remember - this is not new material, this is not a new situation - I genuinely believe accommodation can be found."
Meanwhile, Conservative leadership candidate Esther McVey said that parents should be able to block their children from learning about same-sex relationships in school until the age of 16.
Speaking to LBC's Nick Ferrari, the former Secretary of State for Work & Pensions said: "I think, once the person is coming to an adult age, then that is where the state can come in. That would be later, it would be 16.
"Most parents will then think that is relevant as the child gets older, but this was purely about primary school children, and whether parents had the choice.
"If I had a child, I would have my child having those sex and relationship education lessons, but that would be my choice, and I do appreciate other people would have a different choice."
McVey, who voted against same-sex marriage, denies pandering to homophobes: "I'm certainly not, never have been, never will be. Who I was appealing to was parents of children, who I believe know their children better than anybody else.
"It's their child, they've brought this child into the world, and for very young children what is age-appropriate to me should be done by the parents."
She added: "I'm happy that LGBT is taught… this question was about what is age appropriate for very young children, and I said it should be parents who have the say on that."
As the row continued, former CPS prosecutor and Birmingham-born solicitor Nafir Afzal was brought in to mediate between the council, parents and school, but had to admit that talks had stalled.
Mr Afzal said: I've looked at the curriculum, there is nothing in the curriculum that is LGBT-specific. There is nothing about gay sex."
Continuing, he said: "I've seen people walking around outside of that school with stuff that they have downloaded from the internet suggesting this is on the curriculum. This is what's being taught to their children. It's a lie. And this is what I'm dealing with."
Mr Afzal added: "I've seen dozens and dozens of men, invariably, outside that school, coming straight from the mosque for example or from whatever place of worship, who have no place to be there.
"What the hell are they doing outside screaming at five-year-olds? What are they doing?"
Mr Afzal warned that similar situations could also occur elsewhere in the country if the Birmingham conflict can't be resolved: "This is a political matter... there are loads of people who still don't believe in gay relationships, who still don't believe in LGBT within the government party, within their coalition partners.
"And so they're not prepared to get involved in this subject. And quite frankly unless the government do, we're going to have this dispute rumbling on for years and years and years and it'll get worse and worse and worse."