Posted on 29 Jan 2020
Smash-hit LGBTQ+ musical Everybody's Talking About Jamie is strutting its stuff in the Midlands next month - and heading up its cast is the openly gay star of stage and screen Layton Williams...
What's Everybody's Talking About Jamie all about, Layton?
It's about a 16-year-old boy who's finding his way in the world and wants to be a drag queen one day. So this is the start of his journey into that. He's still at school and has a close relationship with his mum but a distant one with his dad, so the musical explores that a bit too. He's basically just trying to become his inner, fabulous self, and to do that he thinks he needs to leave his home in Sheffield. But by the end of the story, he realises that home is where the heart is. It's a family show that should make you laugh and make you cry - just give you all the feels!
How do the people around Jamie react to him?
His friends are super-supportive. His mum also rallies around him, at least to a certain point where she thinks he might've gone too far. His teacher is always telling him to 'keep it real', but Jamie says he doesn't need to be 'real'; he's just himself and his drag persona. His dad really hates his drag. Everybody's opinions are tossed at him all the time, when really it should be about how he feels, which is the particularly interesting part of the story. So definitely the reactions to Jamie are mixed, but that's reflective of the world that we live in. Everyone has their different opinions and it depends on whether you want to take them on board or not.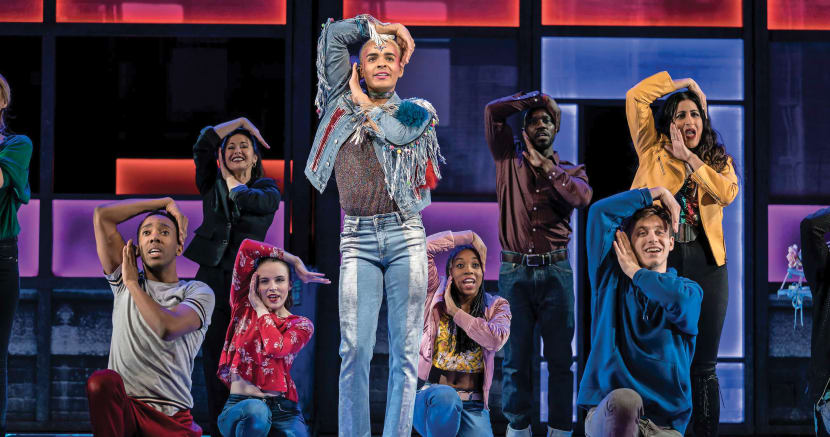 What would you say is the main ethos of the show?
It tries to tell people to stay true to who they are and be proud of themselves; and that if they're different or feel like they don't fit in, then there's a place for them in the world anyway. It's all about having hope. When we're young, we doubt ourselves, but it's just about knowing that things will get better. It's about surrounding yourself with your friends, family and people who you love. It also tells us that people can change their opinion and become more open-minded. I hope people think about all of these things when they come to see the show.
Do you think its messages are the main reason for Jamie's success?
Absolutely. People leave the theatre inspired, with their hearts open, thinking that the world isn't as crazy a place as it seems. There's definitely hope, especially for younger generations coming through. We can live in a world where - while you might not be on board with how people are, or how they live their lives - we can all be a bit kinder to one another.
Do you have a favourite musical number and scene in the show?
I really love the opening number, And You Don't Even Know It, because it's about Jamie's dream world. He's dreaming about being the big star, the drag queen that he wants to be, and about everyone around him being behind him 100%. I also love the closing scene, when he's been on this incredible rollercoaster and can just stand there in his heels, putting out the bins and being 'in this place where I belong, where we belong', as the song goes. It's really beautiful to be able to watch him and think to yourself, 'Yes, Jamie, go!'.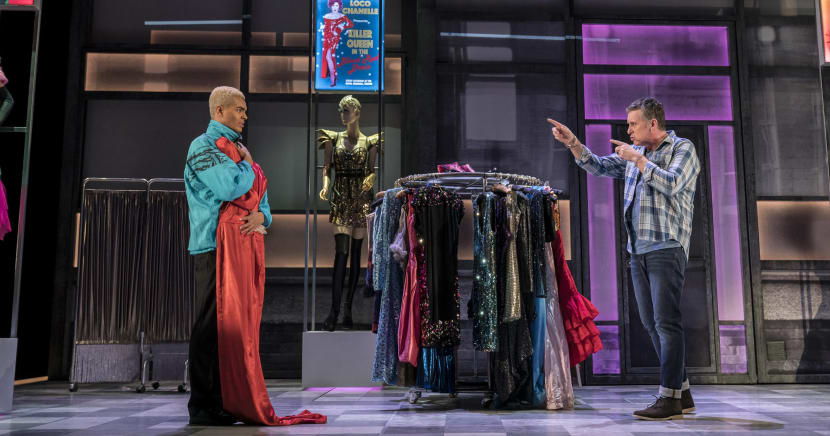 Did you have any experiences with drag before playing Jamie?
Not really. I guess I dress in drag for Halloween, or Hallow-Queen as I like to call it. Every Halloween I do enjoy a nice wig and a six-inch heel! But really the first time I got into full drag was the first time we shot things for Jamie. I'm an actor, so if you want me to play a drag queen, I'll happily play a drag queen!
What's your view on LGBTQ+ representation in the school curriculum?
I've worked with charities such as Diversity Role Models, so I've seen first-hand those who are driving schools for change, which is fab. I think every school should have a charitable organisation involved with it, to make sure that students from all minority backgrounds feel like they're represented, like they're not alone, and to help them realise that there are other people just like them. LGBTQ+ should 100% be on the national curriculum, and the school should be the safest space for children to feel confident about being themselves. They should be supported by their schools and teachers. There's so much happening, and I've been in schools giving that kind of talk myself, so have seen it with my own eyes. But there's always more to be done!
What was your own school life like?
I wasn't exactly out at school, but I think it was kind of obvious that I was maybe, you know, a little bit gay! I was just doing my thing and was quite a confident kid, so I could cope with people trying to get at me. But most of my school years I spent at theatre school, so I was lucky to be surrounded by lots of openly LGBTQ+ teachers and students. Back in the day at school, it was hard for us! And I think one thing I would take from Jamie is wishing that I could've been out and proud when I was back at school. But then I also think that everything happens for a reason, and that timing is key. At the same time, I still look back and think that I did what I needed to do; what was right for me.
Do you think the representation of minority groups in theatre and other art forms is improving?
I'm a prime example that we're absolutely moving in the right direction. I'm a non-white gay actor playing this part that was once white - and now another mixed-race man has been cast too. I saw a black Juliet in Romeo And Juliet last night. Things be changing! People are waking up and realising that this is what we want to see. We want to see everyone represented. This is a moment in history - a movement, too. I'm so proud to be a part of that.
Where do you hope your career goes in the future?
Stage, screen - you name it, I want to be there. I've been very lucky in that I've done so much already in my career, and I'm ready to go for any opportunity that comes my way!
Finally, sum up Everybody's Talking About Jamie in three words...
Fun. Family. Freedom!

Everybody's Talking About Jamie visits The Alexandra, Birmingham, from Monday 16 to Saturday 21 March; Theatre Royal, Nottingham, from Monday 20 to Saturday 25 April; Grand Theatre, Wolverhampton, from Tuesday 23 to Saturday 27 June and Curve Theatre, Leicester, from Monday 29 June to Saturday 4 July.