Posted on 3 May 2019
We talk exclusively to Birmingham-based gay man of the moment Andrew Moffat, who created the award-winning No Outsiders programme for schools. The programme teaches primary school children about subjects including LGBT diversity.
Although No Outsiders has been running for more than four years without any problem, it's currently at the centre of significant controversy, with some parents protesting its same-sex relationships content and Andrew himself having received DEATH threats. Andrew is currently assistant head teacher at Parkfield Community School in Saltley, Birmingham.
On a personal level, Andrew, you've received some quite horrific threats. How has that affected you?
It's been very, very difficult. It's been the hardest term of my career. I've had some serious wobbles, but at the same time, what the threats do is make me more determined.

If I were a younger teacher or less experienced, I think it would be different, but I'm 47 and I've been teaching for 25 years. I know what the job is about and I'm very confident about my work. I've been doing LGBT work for 10 years. I wrote No Outsiders in 2014, and I think that if this had happened in 2014, it would've been different and I would've felt less confident about fighting for it. But I've now had four years of No Outsiders working fantastically, not only in my school but throughout the country.

Yes, the threats are nasty, but I've got support from across the country, I know what I'm doing and I know why it's important. That support gives me strength. Things like having Birmingham Pride endorsing No Outsiders is just huge. That kind of thing really keeps me going. Yes, you get the odd message or email or letter in the post that's horrible, but then I get Birmingham Pride saying they support No Outsiders, and that's like tens of thousands of people.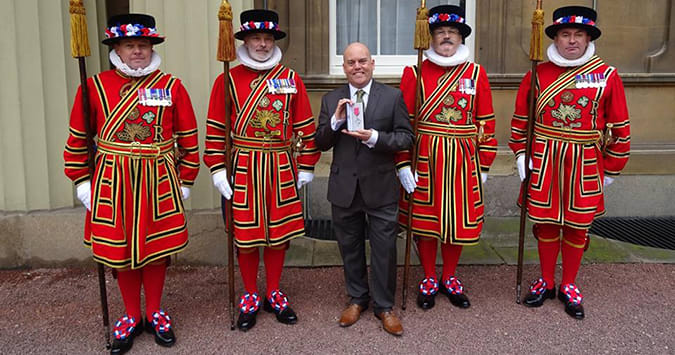 Andrew proudly showing off his MBE, awarded in November 2017 for services to equality and diversity in education
The government must think very highly of your work with regard to equality and diversity to have awarded you an MBE...
That was amazing! I still have no idea who nominated me for that - it wasn't my mother or partner. To get an MBE and be able to meet the Queen and tell her about No Outsiders was amazing. I tell the kids about it in school - you can't buy that type of assembly story. To tell the kids and show them the MBE medal and say, 'I told the Queen about you and your work' - that was one of the best assemblies I ever did.
How did No Outsiders first come about?
Between 2006 and 2008 I wrote a resource called Challenging Homophobia In Primary Schools. It was just a free resource I put on the internet - a bit of training here and there - and that project ended in 2008. I was at a school in Newtown in Birmingham, and there was a backlash against the resource by some parents who said it amounted to gay lessons. So in the end I resigned from that school.

I then set about rewriting it as No Outsiders and taught about LGBT equality in context. I talked about engaging with parents, and that was in 2014. I got the resource published, and it's just grown and grown since then. It's been phenomenal, actually.

I don't see myself as a pioneer in this work, though. Schools have been doing equality work since the year dot, but what No Outsiders does is give it a framework. It also makes sure that LGBT isn't missed out.
How did the £5,000 grant award from Birmingham Pride in 2015 help the No Outsiders programme?
It was great that Birmingham Pride supported the aims of the project. I really wanted to make some sort of training film. I'd been asked to go around Birmingham and occasionally further afield to talk about it.

People were picking up on and using the term No Outsiders and thinking about it with regard to LGBT equality. That was always the worrying bit for primary schools. In my experience, no one was ever worried talking about race or disability or gender, but LGBT equality was a sticking point for primary schools.

They were always worried about how you could do that. So Birmingham Pride gave me a grant to produce this training film, and I've been using the film ever since.

It's a 15-minute film, and I literally take it around everywhere I go. I must have shown it thousands of times in schools and conferences, and I still use it today.

I also bought book packs with the Pride grant to create a No Outsiders library in my school, so that parents knew what we were teaching about. We bought multiple copies of the books that we use, and in the summer term we had a No Outsiders library where parents could come with their kids and borrow books for a couple of nights. That was invaluable.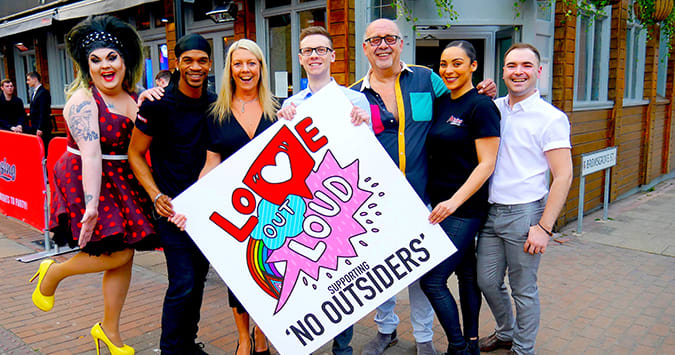 Birmingham Pride's theme of 'Love Out Loud' is also supporting No Outsiders

You're going to be making a speech to launch the Birmingham Pride parade, and you're going to be leading the parade as well. What's your message going to be?

That's just wonderful, isn't it? It really is fantastic. I'm overjoyed that Birmingham Pride have asked me. It's just really going to be about standing up there and saying that No Outsiders needs to be taught in schools because this is how you help end homophobia - by teaching children about different people from an early age.

The message that I want to give is that it's not a case of Muslims versus LGBT or different cultures not getting along. It's about bigotry and fear, and the great thing about Birmingham is its diversity and that we can all get along.

Birmingham is a great place. There are no no-go areas for LGBT people - but we can't be complacent. We have to be out there, we have to talk about it and we have to work together.
So if No Outsiders has been running for four years without any issues, how did the current controversy start?
So we've had four years of calm - not a whisper of complaint. Parents have been completely on board. We've run No Outsiders parent workshops where parents can come with their kids. We've run 38 workshops altogether; the last one was in January.

Rumours started spreading that, as a result of new government proposals, sex education was going to be taught to four-year-olds, and that they were going to have pornography in classes, and that you wouldn't be able to withdraw your child from the lessons, and that basically there was a gay agenda.

These false rumours took hold and very quickly people started to say it was a conspiracy - it's a gay teacher, it's a gay agenda and it's everywhere. It just took hold, and all of a sudden my work had been hijacked.

The problem has been that people have been whipped up into a frenzy of panic about this and haven't been prepared to listen.
What does the future hold for No Outsiders?
Currently the lessons are suspended while we have parent consultation. It's a separate consultation; I'm not talking about the meetings. The meetings are going on at the moment. They're having parental engagement and we're confident that we can work together to find a resolution so that we can continue with our equality work. What we can't do is just stop teaching about it.

We would never say we're going to stop teaching about disability; if you're in a wheelchair then you're not welcome. We're not going to not discuss people who actually use wheelchairs - we would never say that. We would never say we're not going to talk about the Jewish faith or Sikhs or Hindus. It's the same for LGBT. We can't say we'll talk about mums and dads but we're not going to talk about dads and dads or mums and mums.

We've got to find a way forward, and we absolutely will, because the vast majority of parents, not just in my school but in all schools, know about this, are happy about it, and want their children to be prepared for life in modern Britain, and to know that there are different people out there.

You know that you're going to meet people who have different skin, different beliefs and different families. All this work is doing is preparing children so that they're not frightened about it. I'm not worried at all about the future of No Outsiders. We will absolutely find a way, with our community and our parents, to make this work continue because we have to.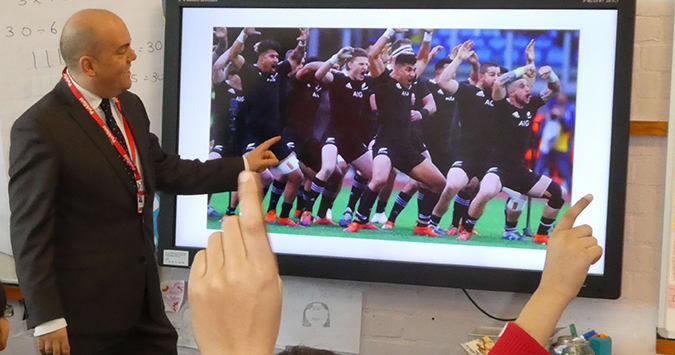 Have you found that after you've spoken to concerned parents individually, they have a better understanding of No Outsiders?

Well, if I go back to where it first started, in a book which I wrote as a resource for teachers, I do a whole chapter on how to meet and engage with the parents and the reason I chose picture books.

It's all based on picture books - and the reason I chose them was because you're not saying to parents, right, we're teaching about disability or race or LGBT, you're saying, here they are, here are the books that we're using. So you're showing them. There's no grey area or confusion as to what you're teaching. Here's the book, read it. I'll read it with you - it's there in front of them. The books that I've chosen are 35 picture books. They're all regular books that you can buy in Waterstones, and many schools will have them for years and years.

Elma is in there. Everyone knows Elma. All schools have an Elma The Elephant in their collection. Elma's a multi-coloured elephant, so he thinks he should try being grey because all the other elephants are grey. So he covers himself in berries to change colour, but then he realises that you don't have to change who you are, so he washes all the berries off and everyone celebrates with him. It's a simple story.

You relate that to race and LGBT, but it's just a picture book about an elephant. When you show parents these books, it's very hard to argue against Elma. There's no hidden agenda here; it's just very simply about teaching children that we're all different and that that's okay. Within that book, we make sure we don't miss anybody out.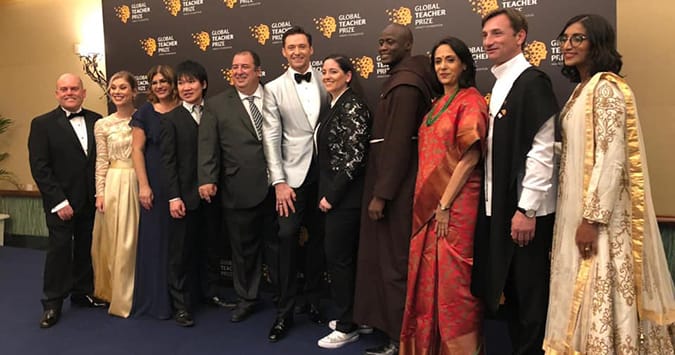 Andrew (far left) was shortlisted for the Global Teacher Prize. Here, he's pictured with the other nine nominees and the award ceremony's host, actor Hugh Jackman (centre).

Do you feel that you have the full support of the teaching staff?
One hundred percent! And the governors as well. Also teachers around the country. What's started to happen in the last month is that we're getting cards and presents and flowers from schools around the country. You're talking hundreds of cards in the last couple of months. Someone sent the staff a hamper of cakes and biscuits with a note saying, 'A mum from Cambridge'. That's wonderful. The teachers are seeing that people are watching what's happening and wanting us to carry on. We have support from around the country and from schools as well. This is why I'm absolutely not going anywhere.

There are some people who want me to leave, but I'm not going to. Staying sends a very clear message. Every time I walk through that door it's a victory, because I'm there as an out gay man. I'm there and I'm visible, and that's really important. That's why Pride is still really important - it's about being visible. It's about saying, quite simply, here we are.
Catch our other features HERE