Posted on 26 Jul 2019
Leicester-born LGBT playwright and literary genius Joe Orton is best known for writing the shocking, outrageous and amusing black comedies, Entertaining Mr Sloane, Loot and What The Butler Saw.
Now, over 50 years after his death in 1967, a campaign has been launched to have a statue of the iconic Midlands playwright erected in his home town.
Who was Joe Orton?
Despite being celebrated as a uniquely talented writer, Joe Orton's life was far from easy. Born John Kingsley Orton and raised on Leicester's Saffron Lane council estate, Joe was the eldest of four children born to a distant father and a mother who lacked emotional warmth. After failing the eleven-plus exam, he enrolled in Clarks College and trained for a life of clerical work.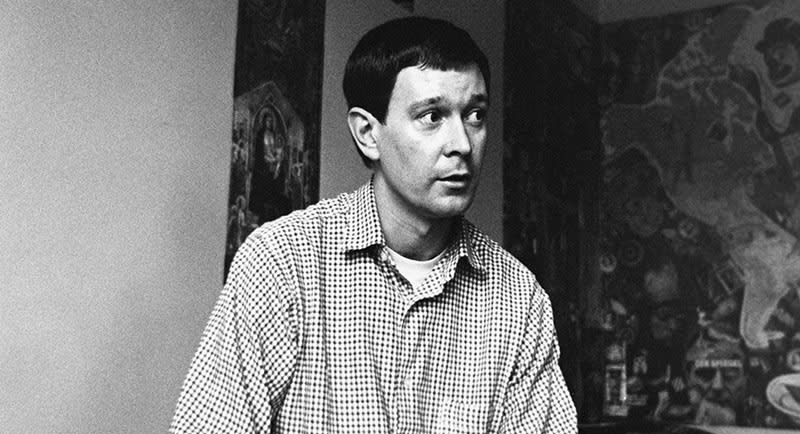 From these humble beginnings, Joe developed a passion for acting and achieved a scholarship to the Royal Academy of Dramatic Art (RADA) in 1950. It was at RADA that he met Kenneth Halliwell, the man who was to become his friend, mentor, lover and, eventually, his murderer.
Neither Joe nor Halliwell enjoyed RADA, and after graduating they devoted their time to becoming writers. It wasn't until the early 1960s that Joe had his first breakthrough; the radio play The Ruffian On The Stair was adapted and broadcast by the BBC Third Programme.
Although Joe's public career was short - his first stage play, Entertaining Mr Sloane, premiered in 1964, just three years before his death - his work was highly influential. And given that he was an openly gay man at a time when homosexuality was actively persecuted by the police, his plays were also undeniably groundbreaking.
His scandalous black comedies won major awards in their day and have since been performed all over the world.
In the years since his death, Joe has been influential in the development of generations of writers, so much so that his unique style has given rise to the adjective 'Ortonesque', to describe work that blends the comic and the macabre.
His life, as revealed in his diaries, was as scandalous as his plays...
Joe died tragically at the age of 34, murdered by Halliwell, who bludgeoned him to death at their home in Islington, London, before killing himself with an overdose of Nembutal.
Who is backing the campaign?
The Joe Orton Statue Appeal has been organised by a committee of Orton fans in Leicester and is headed by his sister, Leonie Orton, and Dr Emma Parker - a leading Orton expert at the University of Leicester. The campaign has also been lent support by a host of celebrities, including prominent LGBT figures Sir Ian McKellen and Stephen Fry.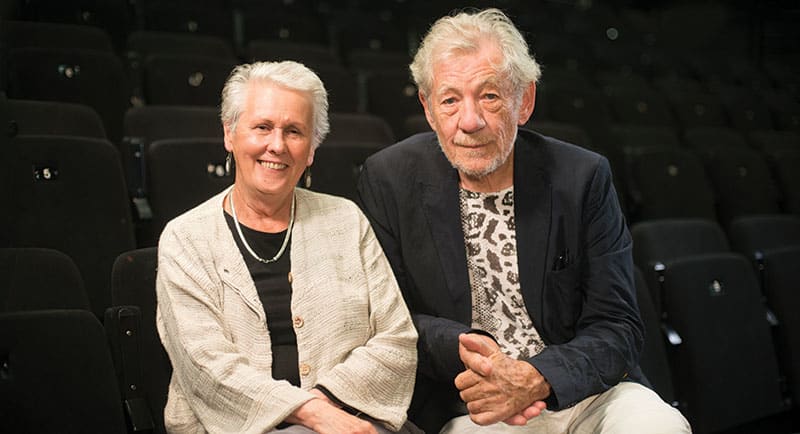 On hearing of the fundraising campaign, Fry said of the playwright: "Joe Orton has always been a hero to me, both in his work and in the authenticity, wit and wonder of his life. A statue is a wonderful idea."
Other celebrities who have lent their support to the appeal include Hollywood A-lister Alec Baldwin, Scottish actor Kenneth Cranham and Sheila Hancock, CBE.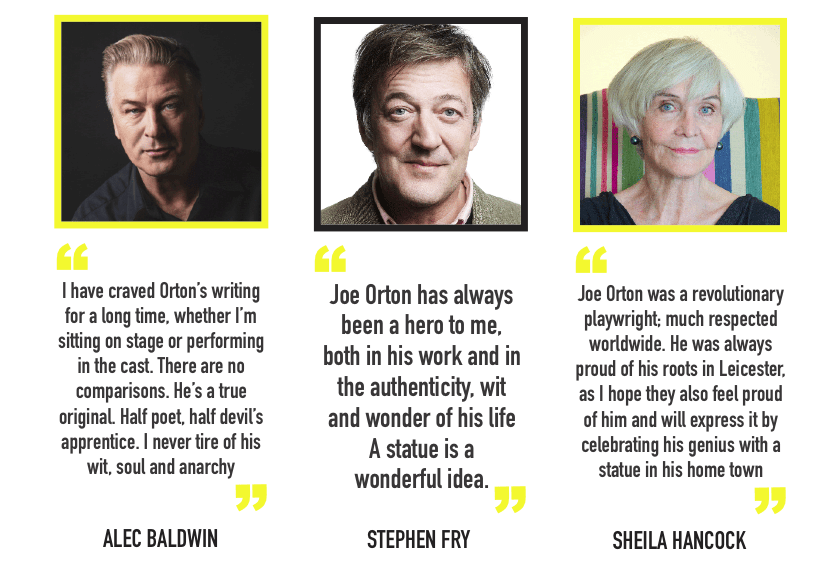 How you can help...

The favoured location for the commemorative statue, which has a projected cost of £100,000, is Orton Square by Curve, at the heart of the Cultural Quarter.
Its design will be subject to a competition in which artists will be asked to represent a likeness of Orton in a suitably 'Ortonesque' way.
It's hoped that the statue will become a symbol of Leicester's literary heritage and commitment to diversity and inclusivity.
Leonie Orton, who administers Joe's estate with her sister, Marilyn, said: "A statue of Joe will ensure that a great writer is not forgotten, raise awareness of Leicester's rich literary heritage and serve as an inspirational reminder that talent is everywhere and art is for everyone, regardless of social background or circumstance."
The launch of the Joe Orton Statue Appeal took place at Curve on 25 July. Invited guests and Orton fans were presented with a short fundraising film from Sir Ian McKellen and Leonie Orton, as well as being given the first opportunity to pledge their support to the statue's funding.
Guests were also able to take part in a silent auction, to bid for items from the Orton Archive, exclusive theatre experiences and Orton artwork.
There were also some once-in-a-lifetime rewards available for donating, including the chance to wear Joe's coat or have a private reading of the Orton Diaries by Kenneth Cranham.

Those wishing to pledge their support to the Joe Orton Statue Appeal can do so at www.spacehive.com/joe-orton-statue-appeal