Posted on 29 Nov 2019
Is your resolution for 2020 to be more sociable and spend time with like-minded people?
Or maybe you fancy trying your hand at a new hobby, participating in a sport or joining a drama company or singing group? If so, the following two pages are definitely for you!...
We've compiled a list of some of the Midlands' best clubs, groups, societies and organisations for LGBTQ+ people. CHECK IT OUT - you never know, you might just see something you fancy!
And there's plenty more besides, too - head over to midlandszone.co.uk and you'll find an even longer and more comprehensive list...
SPORT


Birmingham Blaze FC
LGBT-friendly football club, sponsored by The Fox. Training every Wednesday, 8pm -10pm, with matches in the Festival League every Sunday. To find out more, head to facebook.com/blazefc

Birmingham Swifts
A free, England Athletics-approved running group for LGBT people, meeting three times a week. Open to all abilities and offering regular 'couch to 5k' starter sessions and more advanced marathon training programmes. To find out more, head to facebook.com/birminghamswifts
Trans City Football Club
Suitable for anybody over the age of 18 who identifies as being anywhere on the trans spectrum. The club provides a safe space in which to enjoy your football - the group has sole access to the changing rooms during sessions.To find out more, contact via email to activate@blgbt.org
Black Country Fusion
Formed in 2016, Black Country Fusion was the first LGBT-inclusive club in the West Midlands to enter a Sunday league rather than a conventional gay league. The club has both male and female teams. To find out more, head to facebook.com/bcfusion
Coventry Corsairs RFC
Fully inclusive rugby team that welcomes new members whether or not they have any previous experience of playing rugby. To find out more, head to facebook.com/coventrycorsairs
Stoke Panthers
Fully inclusive badminton group which welcomes all ages, standards and abilities, from beginners to league players. To find out more, head to stokepanthersbadminton.wordpress.com
PERFORMANCE & ARTS
Acting Out
Birmingham-based acting group for the LGBT community, open to anyone. The group meets weekly in Birmingham Gay Village and puts on a variety of performances throughout the year. Website: acting-out.org.uk




Birmingham Gay Symphony Orchestra
The BGSO offers a safe non-scene environment where musicians can relax, play, and enjoy the company of their fellow performers. For more information, head to bgso.org.uk
Rainbow Voices
The only West Midlands choir for gay men, lesbians, bisexuals and trans people and their friends. The choir has members across all ages and comes together to celebrate diversity through song. Website: rainbow-voices.org.uk
SOCIAL


Circle Birmingham
Monthly informal and sober social event for all people within the LGBTQ+ community. The group aims to improve mental and physical wellbeing by encouraging participation in healthy activities. For more information, head to facebook.com/CircleLGBTQ
Pink Sou'westers
Pink Sou'westers offers a range of low-cost, accessible and inclusive out-of-town non-scene events and activities for LGBT+ people and their guests, regardless of age or area of residence. Taking place in the daytime every third Thursday of the month. Contact Number: 07976 274271 Email: swbgroup@blueyonder.co.uk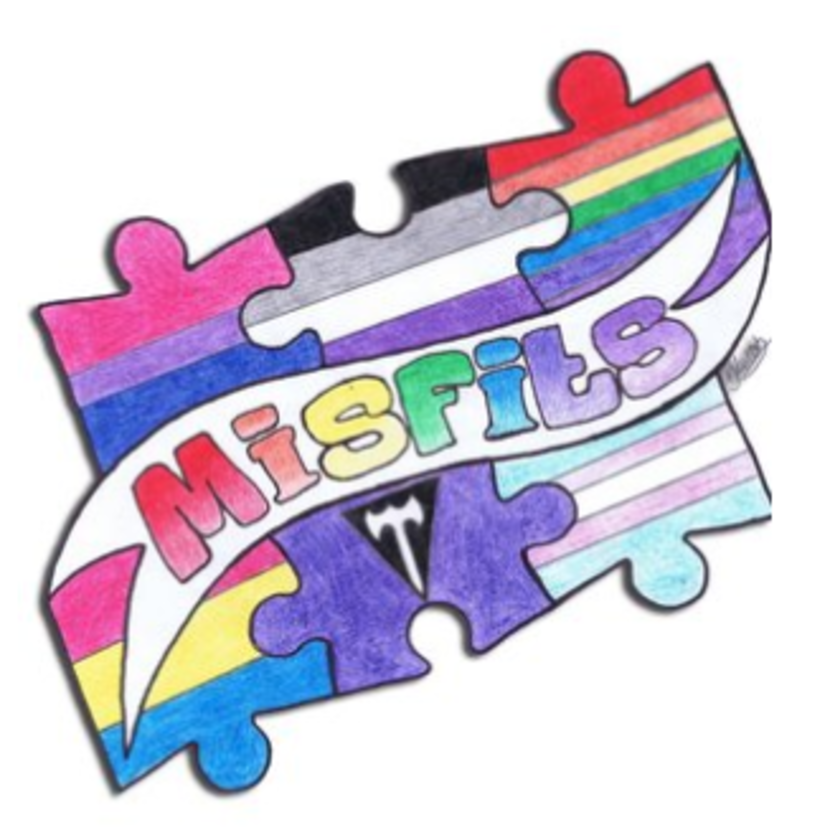 Misfits
Social and support group for young adults aged between 18 and 30 who identify anywhere under the LGBT+ umbrella or are questioning. A drop-in group, Misfits is free to attend and provides a safe space in which to socialise with other LGBT+ young adults, take part in numerous activities, access support and gather information. For more information, head to leicesterlgbtcentre.org
First Out
First Out is Leicester LGBT Centre's social and support group for young people aged between 13 and 18 who identifies anywhere under LGBT+ umbrella or are questioning their sexuality or gender identity. This drop-in group is free to attend and is a safe space to socialise with other LGBT+ young people, take part in fun and educational activities, and gain support and information. Every Thursday evening from 6:30pm - 8:30pm. For more information, head to leicesterlgbtcentre.org
Stand Out 19 to 30 Group
Derbyshire's LGBT+ weekly social support group enables people aged between 19 and 30 to meet up and make friends with like-minded people in a friendly, relaxed and safe space. For more information, email info@derbyshirelgbt.org.uk

x2y - LGBT Youth Group
Youth group for gay, lesbian, bi and trans people in Wolverhampton and the surrounding area. There are two weekly groups - one for ages 11 to 17, the other for 18 to 25-year-olds. For more information, head to x2y.org.uk
No Barriers
A monthly social group for LGBT+ people with learning disabilities, No Barriers is a place in which to relax, be yourself, meet new people and make friends - and all in a safe and supportive environment.
Call or text 07580 532659 or email info@warwickshirepride.co.uk for more information
SPECIALIST
ALBA
Support group for women asylum-seekers or refugees. If you are a lesbian, bisexual or transgender woman and have come to the UK to seek asylum, you are very welcome to join in with the monthly meetings. For more information, head to facebook.com/albalbtwomen
Derby Older Gay Men's Group
Golden Rainbows is a friendship and social support group for people aged 50 and older who identify as gay, bisexual or trans. The group is facilitated by members of the Derbyshire LGBT+ staff & volunteer team. For more information, head to derbyshirelgbt.org.uk
Finding A Voice
Social group offering support to gay South Asians aged 18 or older, regardless of their faith, culture, religion or disability. For more information head to facebook.com/findingavoice
Living Out Loud
Leicester LGBT Centre's free-to-attend drop-in group for people aged 18+ who identify anywhere under the trans umbrella or are questioning their gender identity. The group provides a safe space in which to socialise with other trans adults and gain both support and information. Contact number: 0116 254 7412
New Road Parents
Monthly Bromsgrove support group for parents, friends, relatives and carers of LGBTQI people. The group covers an area across Birmingham and Worcestershire but has members who travel from much further afield too. For more information, head to newroadparents.org
Positive West Midlands
Group providing social support - and signposting to other agencies - for people living with HIV, their supporters and volunteers. Make new friends and share experiences over free tea, coffee and biscuits. For more information, head to positivewestmidlands.co.uk
Birmingham Fetish Men (main image)
Social group for gay men in Birmingham and the Midlands area who want to meet up while wearing their gear. Gay kinksters from all over the country are welcome. For more information, head to facebook.com/groups/BFetishMen