Posted on 26 Jun 2019
Birmingham is blessed with an abundance of drag talent. Although our drag community is small by comparison with those of other cities, we are home to so many different types of drag artistry. All genders, ages and sexualities can be found performing in different ways and sending out different messages. It's fab! Now more than ever, we need to be nurturing and supporting the artform and its participants within our community, and ensuring that new talent continues to come through to help grow the scene.
So, here's a spotlight on some Midlands kings and queens you may or may not know. Get to know them, follow them, maybe go visit them!
Christian Gay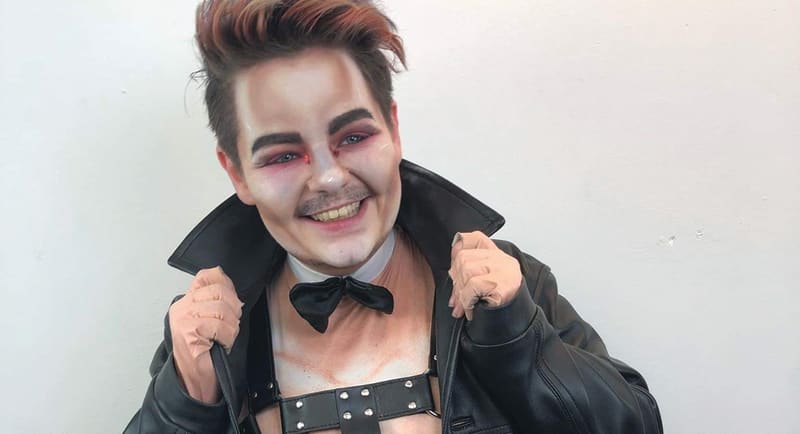 "Growing up and being scared to be who I really was, it was so important to see my big brother, Matt, being unapologetically himself and not, what I knew at that time to be, stereotypically masculine.
"Matt essentially introduced me to gay culture. I remember reading about the events of Stonewall and coming across a masc-presenting entertainer called Stormé Delarverie. From this, I started to look up the icons that inspire me today, such as Spikey Van Dykey, Chiyo, Adam All, Romeo De La Cruz & Landon Cider.
"I started doing drag two years ago with a burlesque group in Leicester called The Vixens. I'd only intended to do the one performance with a partner, just to tick it off my bucket list. It was a movie-themed night and we did 50 Shades Of Grey. Since then, Christian Gay has stuck.

"I started doing more solo performances and gained a lot of self-confidence and enjoyment from it.
"About a year ago, I performed in Birmingham for the first time, in my first competition, at The Church of Yshee. After getting to the finals, I entered another competition called Midnight Mass, which opened a lot of doors for me, such as working with The Fox. My brothers - Dylan Doe, Victor Velvet (as the Haus of Sauseej) - and I pitched an event-concept to The Fox's owner, Andy. He was completely on board with it and helped us create our own event called Kings'n'Things."

Follow me on Instagram @mr.christiangay and @kingsnthingsbham

Catch me here 12th July - Death at Bloodwig Manor - Eden Bar, Birmingham
19th July - Aunty Ginger's Old School Horror Show - Aatma, Manchester
Cycki Brokat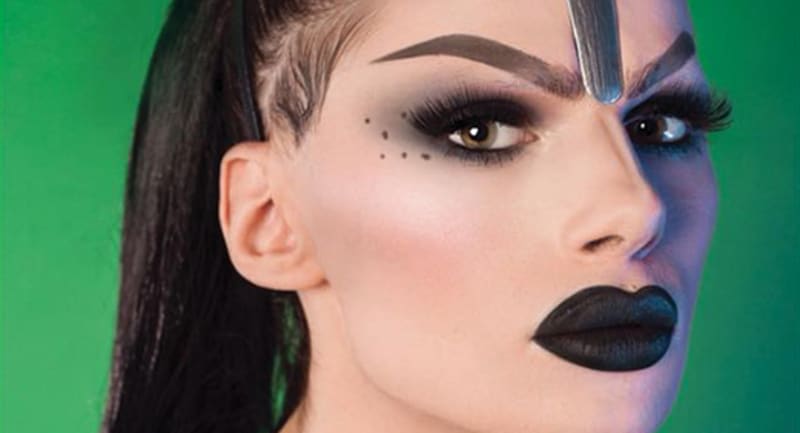 "You know how people say they feel they were 'born in the wrong generation'? I feel that too, but the opposite way - I was born 500 years too early!

"I'm fascinated by the future and the trajectory of human evolution. I have this image where everybody is in drag, and that's kinda what cycki is - the average citizen of the future.
"I don't see drag as a limiting artform. I see myself going into un-queer spaces and showcasing my talents, most importantly my comedy.

"I think it's about time queer entertainers were given the same recognition as their straight counterparts, and not viewed as an 'alternative' artform. Our art is just as valid as theirs.
"I want people to leave a cycki show questioning our society, what gender means and what makes us human. I want to present a positive vision of the future - one where everybody is a non-binary vegan!"

Follow me on Instagram @cyckibrokat

Catch me here Thursdays & Saturdays - The Nightingale, Birmingham
28th July - Church of Yshee - The Village, Birmingham
Blü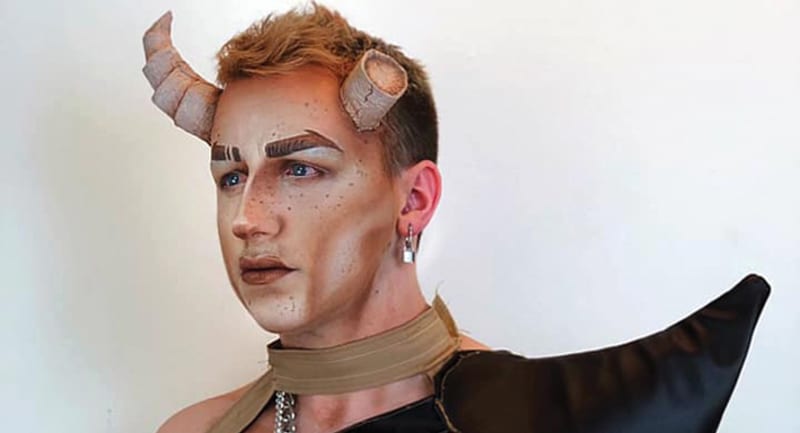 "Blü is Birmingham's only Bio-King. I'm constantly inspired by '80s shoulder pads and graphic art, and I love '80s synth pop and New Romantics - the frontmen were pioneers of the queer identity, using femininity as power! The idea that men can be femme and be respected is, to this day, an almost alien concept because society is built on such misogynistic values.

"I want men to see that they can be camp, beautiful, glamorous, kind and Femme without feeling any less of a man. I also aim to cultivate kindness, and in a world where everyone seems to be competing, I try to lift up those around me, supporting and caring through the drag artform, and using kindness as the ultimate weapon in the fight against evil... or just Trump! Catch me every Sunday as a judge at the Church of Yshee. And remember - 'kindness is king'."
Follow me on Instagram @thegabecapes

Catch me here Sundays - Church of Yshee - The Village, Birmingham
Lilith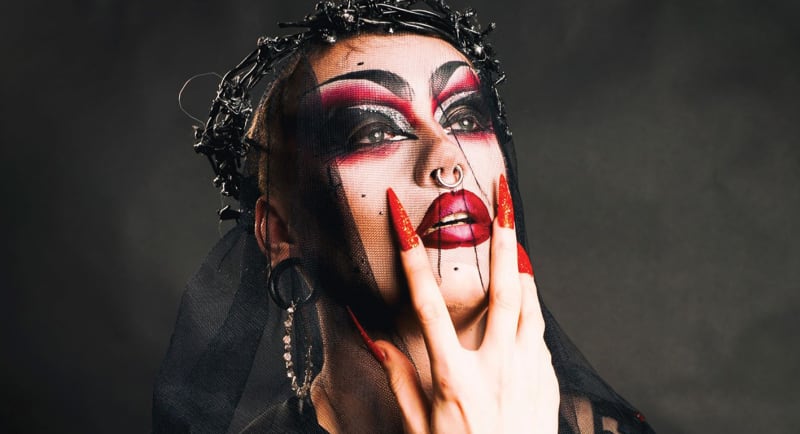 "I'm a death metal drag queen, emo superstar and Birmingham's favourite corpse. My drag is heavily influenced by the music and surrounding pop culture of emo, metal and punk, and I'm still heartbroken that MCR split up.
"Lilith is my reflection back at the world of my myspace teenage angst, and of the way in which music has shaped me as a person. If you've ever seen me perform, you know it's fun, energetic and involves a lot of 'that angry, shouty music'.
"Being one-quarter of Birmingham collective Dragpunk, I've been able to perform all over the country and be part of creating unique events that highlight the alternative drag scene. We've been working on more theatre-based performance nights. My personal highlight so far was Drag Me To Hell last Halloween.

"My goal with Lilith is always to stay true to who I am and the drag I want to do, and to inspire others to do the same.

"I feel like, with the explosion of drag, there's now an expectation about what you have to wear and how you have to perform, but I want to destroy those perceptions and be an absolute rock star doing it. Support your local weirdos!"
Follow me on Instagram @Liam_hallshelton and @Dragpunk

Catch me here Thursdays & Saturdays - The Nightingale, Birmingham
12th July - Death at Bloodwig Manor - Eden Bar, Birmingham
14th July - Queer life drawing - The Loft, Birmingham

Dahliah Rivers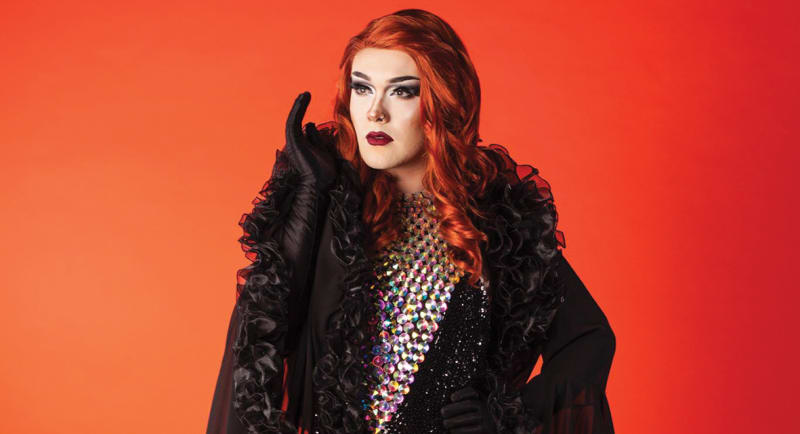 "I'd like to think of myself as Birmingham's youngest cougar.

"Most people will know me as the reigning winner of Midnight Mass!
"My main inspiration for doing drag came from watching pantomime dames (shock - not that TV show!) and being in awe of those larger-than-life characters who were having such a camp time on stage. The likes of Danny LaRue, Lily Savage and Dame Edna are all inspirations to me.

"It wasn't until I started going out on the scene that I built up the confidence to go out in drag. Meeting so many likeminded people really brings out the best in you. Being horrifically introverted my whole life, I've really struggled to build friendships with people, but through drag and expressing myself I've made some long-lasting bonds. Currently I'm part of a collective known as Mothers Meeting. You'll always find me at the Church of Yshee, and I'm one of the hosts for Second Self.
"I'm still finding my feet in terms of my performance style. Thankfully the venues have been so supportive - particularly the lovely people at Missing, who've booked me a few times! Currently I'm in the process of writing my own one-woman show, which hopefully I'll try and take to the Edinburgh Fringe next year.
"But yeah, that's me. Birmingham's very own Broadway babe and low-budget Streisand impersonator signing out!"

Follow me on Instagram @dahliahrivers and @mothers_meetingbham
Catch me here Sundays - Church of Yshee - The Village, Birmingham
31st August - Mothers Meeting - Bar Jester, Birmingham

These are just a few of the artists we have here in the Midlands! Support your local drag scene!